Stage 1: Planning
If you are experienced in the field of playground equipment we look forward to your contact, just give us a call or send a mail with your request.
If you are not familiar with planning or has knowledge of safety standards, we recommend you contact us, indicating the place, its size and your wishes. If it is going to be foremost for young kids or slightly older? Photos is always good, also on the surrounding area.
First step of the project is a basic layout drawing to see if we are on the right track.
If all is good, we can go into production for fast delivery.
If you need visualization of the project our designers and project managers will offer the best and most optimal options for you, so that the selected equipment makes your playground area maximally functional and fits into your budget.
We also develop 3D visualizations of the area free of charge for our customers, so that you can see how the playground will look like in nature even before installation and can implement your own adjustments if needed.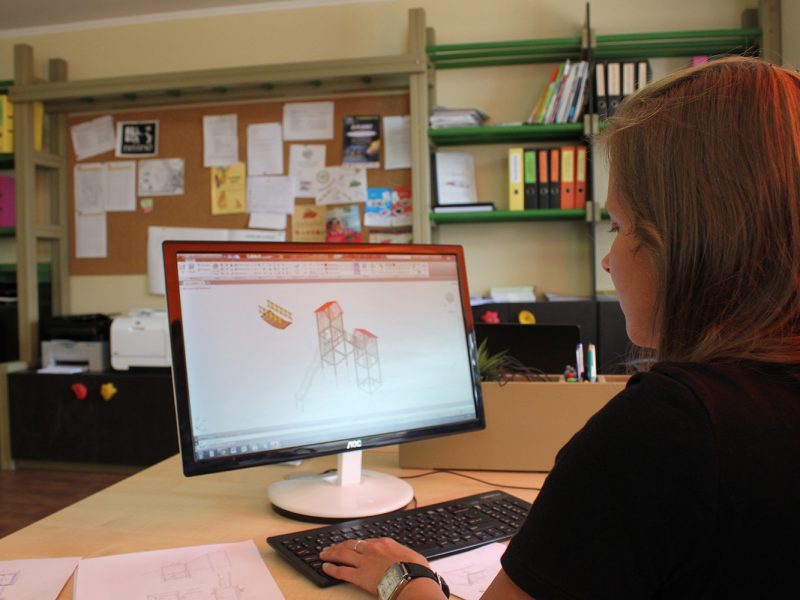 Stage 2: Order and deliver
When the design layout and the chosen play elements has been selected you will receive a proforma invoice with the parts and the added freight cost as the goods are sent from our manufacture in Lithuania directly to your address.
Delivery time depend on the season, but in average about 4-5 weeks.
Stage 3: Mounting  
All play structures come with good mounting instructions, all parts are visual in the documents and there is list of all parts. Assembly can be done by anyone with common knowledge of construction work. There might also be need for concrete fundaments work, this info you will also find in the enclosed manual.
<picture of mounting>
Sand or rubber tiles has to be according to requirements of the play equipment.
Stage 4: Inspection     
Before the play structure is to be used it must be inspected by either a safety inspector or person with sufficient knowledge in this area.
Quality and safety with sustainable performance – from  playgrounds for the smallest children to gym equipment for professional athletes.
The production process is certified by Bureau Veritas in accordance with the standard ISO 9001: 2015, ISO 14001: 2015.
The manufactured goods and their components are certified by TÜV in accordance with the standards EN 1176 and EN16630, which certifies that the company's operations comply with international safety and work quality standards.
This certificate confirms that the materials we use are of high quality and the constructions are safe against wind and snow loads, as well as certifies compliance with fire safety standards. The company has also received a AAA credit rating certificate.

Wood
Most important element in our playgrounds is wood. After a long time searching for the best solution, we have chosen dry, glued pine beams, which are delivered to us by wooden house manufacturer. Immortal. The material is certified by FSC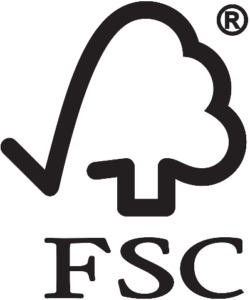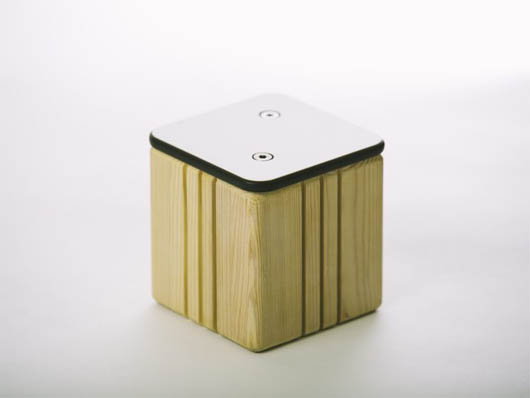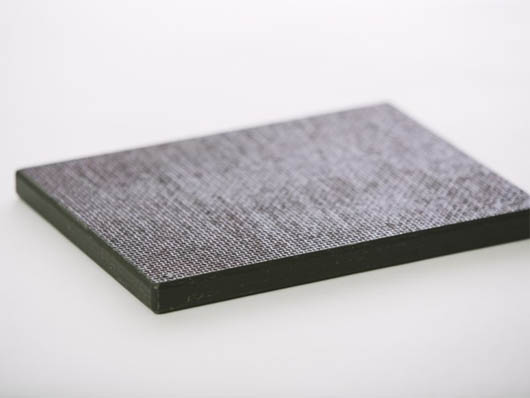 Abrasive waterproof playwood
This material is used for all surfaces intended for walking, to prevent slipping during rain and it wouldn't endanger children while they play.
Reinforced rope
Six re-bar reinforced rope with soft coating, for easy grip and safe from vandals. It will get dirty over time, because it will be stepped on, but nothing to worry about – go over it with high pressure water hose and it will be as good as new. Country of origin – Sweden.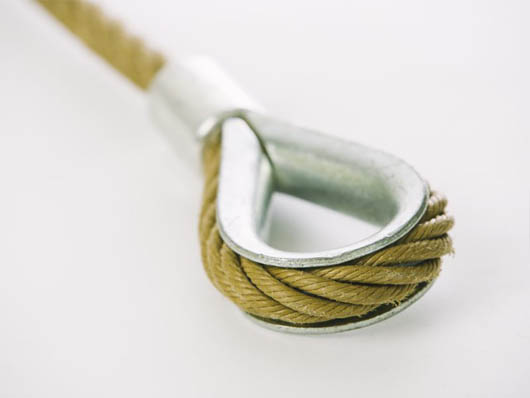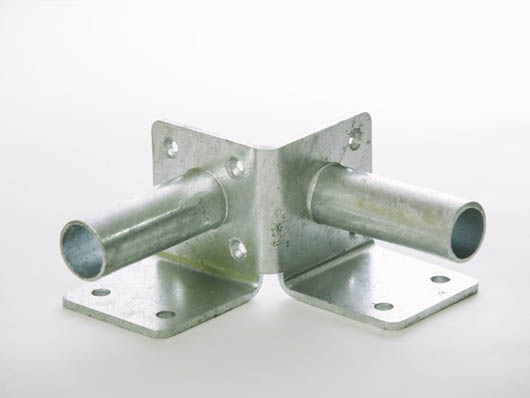 Metal parts
Depending on their intended use, mostly galvanized and powder coated parts are used, but if they are exposed to heavy loads and friction, in order to maintain their visual look, parts are manufactured from stainless steel. Made in Latvia!
Plastic linings and beam tops
Screw linings and other plastic parts with our marking is our trademark. They are used for safety reasons – hiding screw connections, which can endanger the children. Made in Latvia!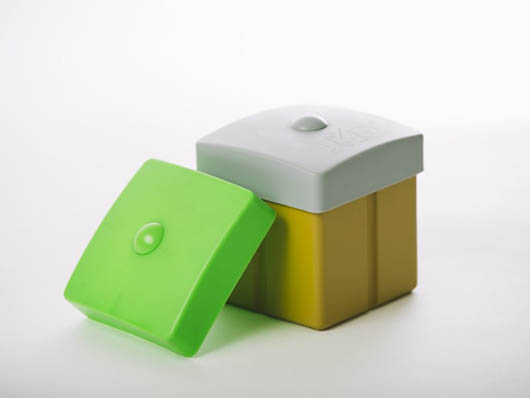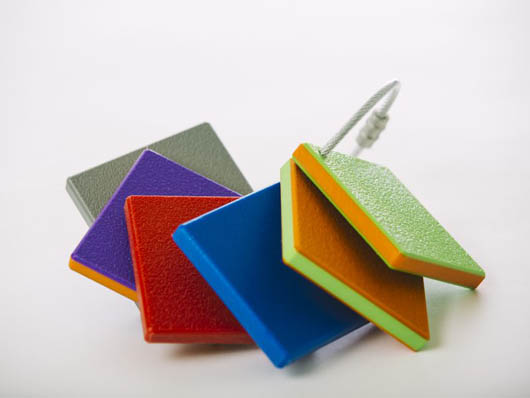 Polyethylene
High density polyethylene form 100% recycled materials. This material is resistant to weather condition effects; it is easy to remove vandalism signs from it and is durable. Country of origin – Spain.
HPL
High Pressure Laminate. Country of origin – Germany.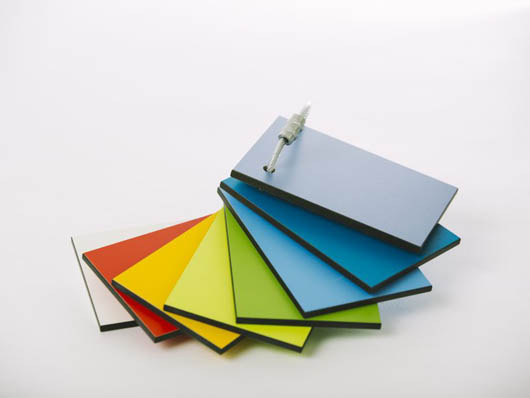 Backed up by our long experience and can-do attitude, SBI Play team will be delighted to assist you at every stage of the project journey. Whether it's a small playground or a complex play solution, our talented and responsive team will be happy to advise you to find exactly what you're looking for.
Meet the leaders of SBI Play team below.
Throughout his career, he has specialized in management, marketing, and customer service, having worked in the attractions, and playground industries over the last years. He's always attentive to needs and ready to walk the extra mile to achieve customer satisfaction.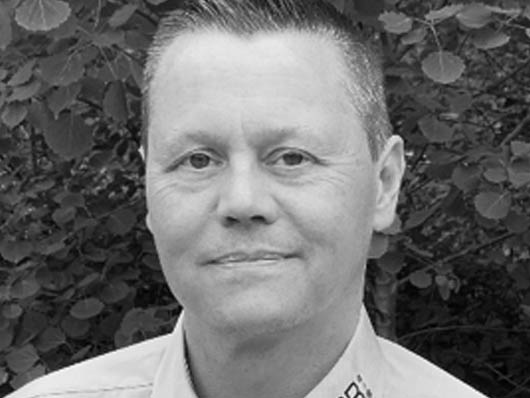 Joacim has a solid experience in the amusement industry and, more particularly, in attractions for children. As a safety inspector (EN 1176/1177), he provides guidance and optimal technical solutions that meet safety and quality standards. A true problem solver with the skill to find suitable solutions in any situation.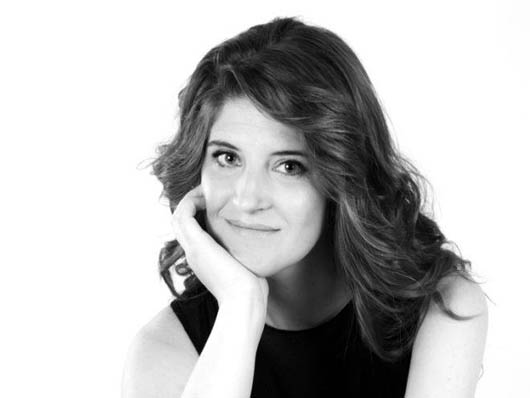 Ana has served dozens of organizations as a senior specialist in marketing and communications, leading projects within tourism, culture, entertainment, food, and environment sectors. Precisely, her background in projects related to the construction of museums, nature interpretation centers, temporary and permanent exhibitions, and signage has helped her to develop an eye for design that can unveil unknown possibilities.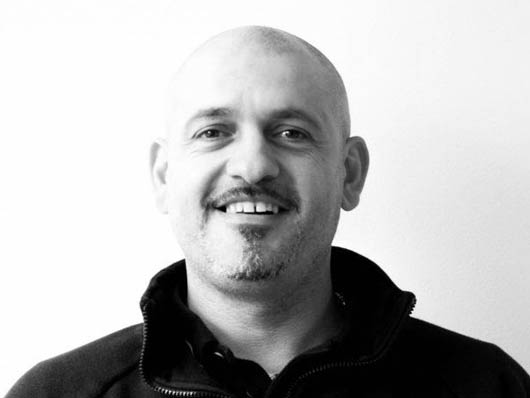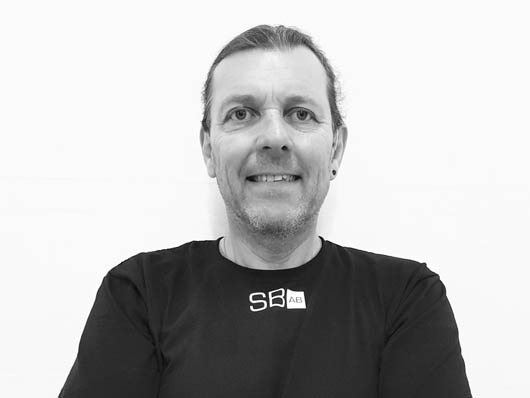 We be happy to take on your project to bring your vision into life!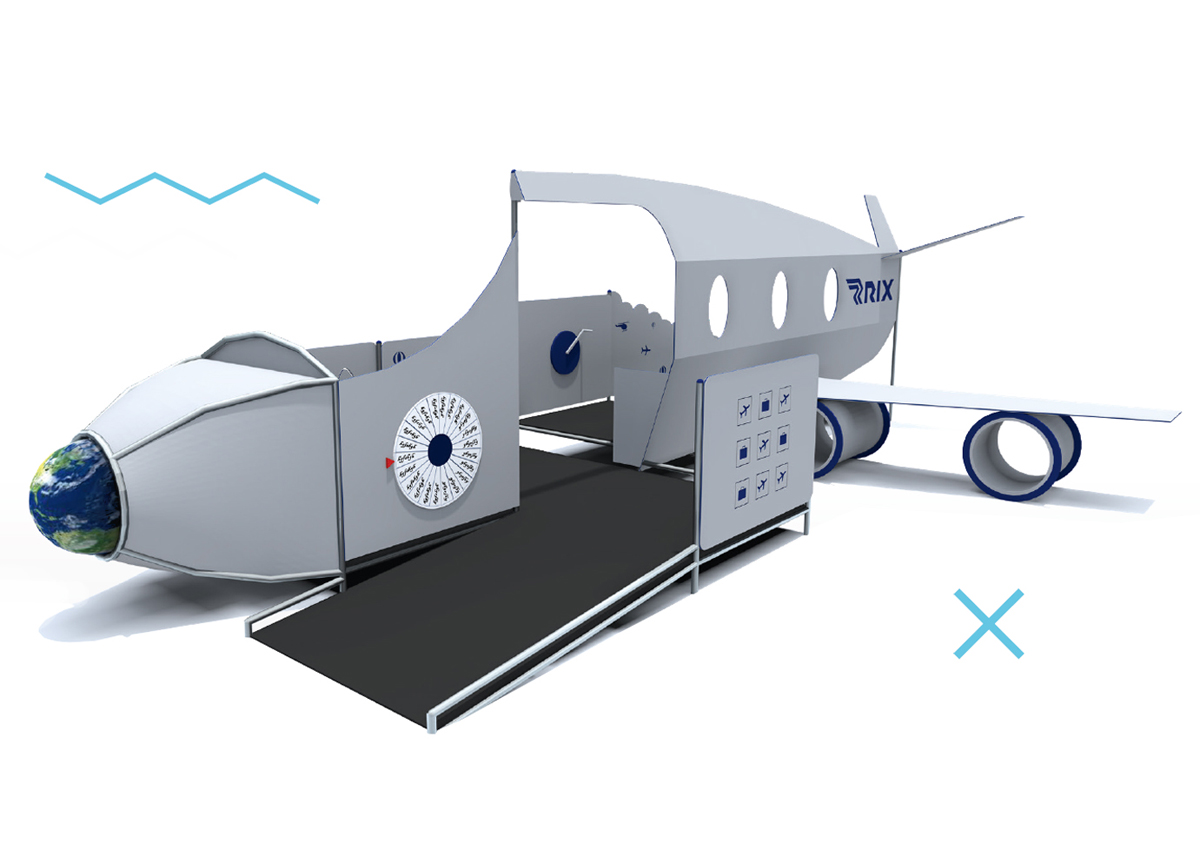 Airplane
This playground – specially made for Riga International Airport – contains elements that stimulate and develop hand motor skills and sharpen children's mind. Entry into "the plane's" frame is suitable for children in wheelchairs. The frame is made of two-color HPL panels, which means they can match any necessary airport colors.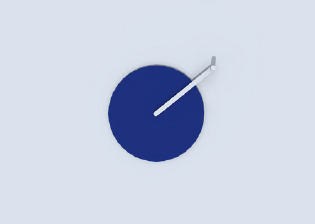 A system of loudspeakers and LED lights for simulating a take-off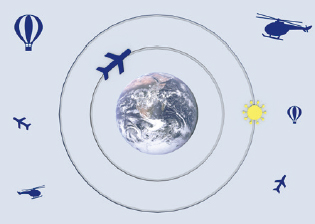 Flight route in the orbit of the Earth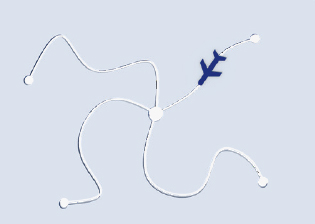 Milled flight path.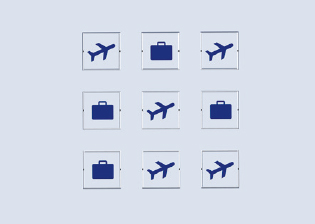 "Tic-Tac-Toe" game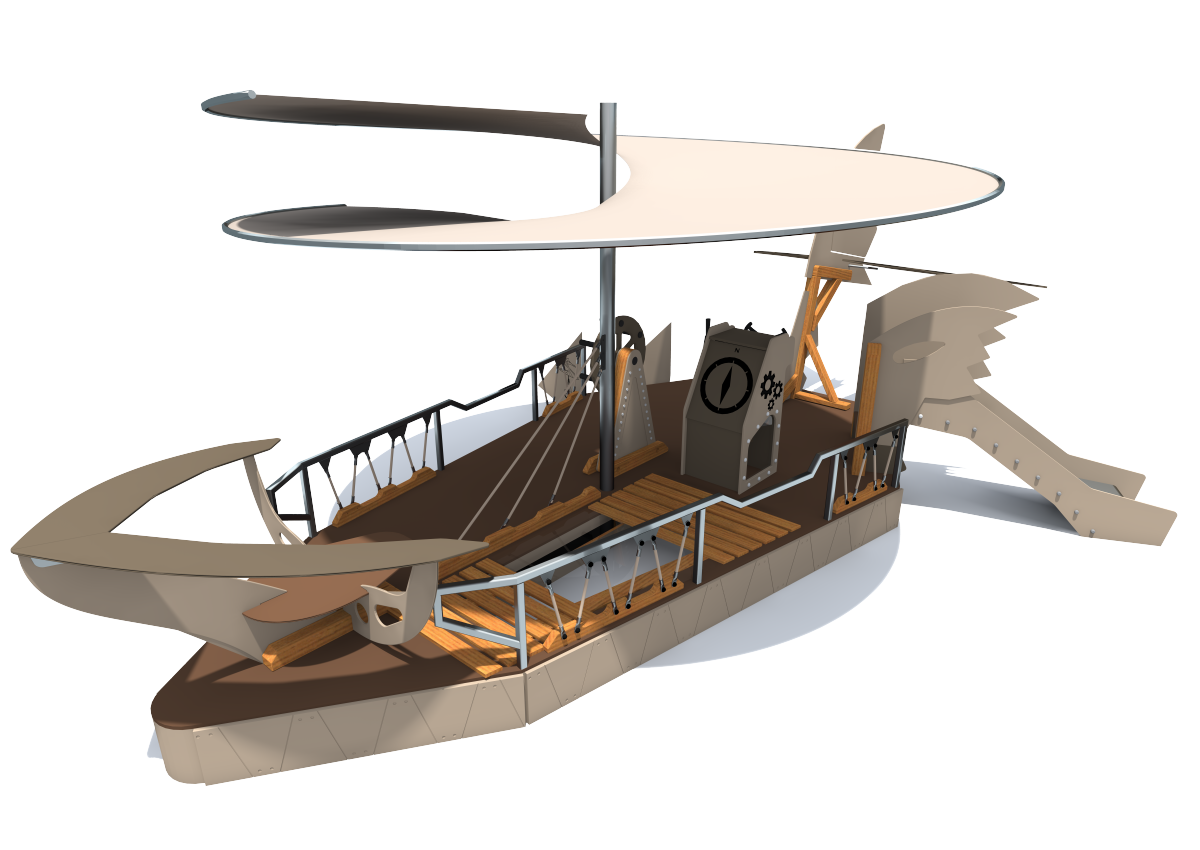 DaVinci
In 1483 Leonardo da Vinci made a sketch of a helicopter-like aircraft – an "air-screw". It inspired us to create this concept with game elements that develop hand motor skills and at the same time sharpen the mind and inspire children. The corps is made of HPL panels in two colours, which means it can match the colours of any required airport.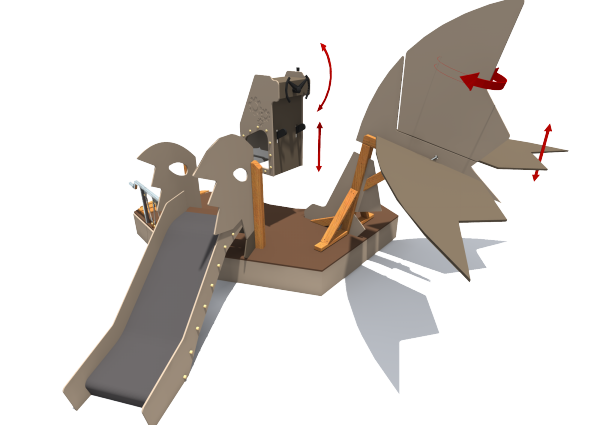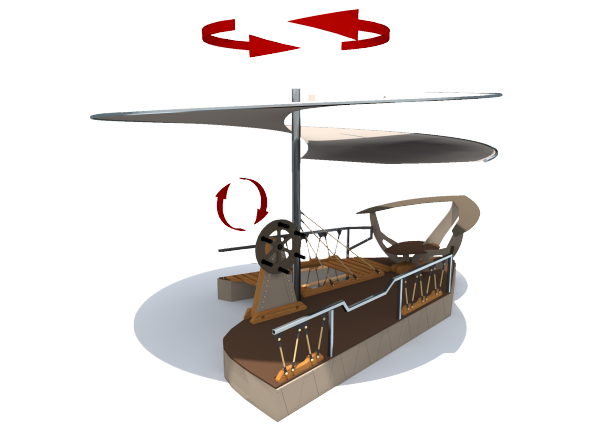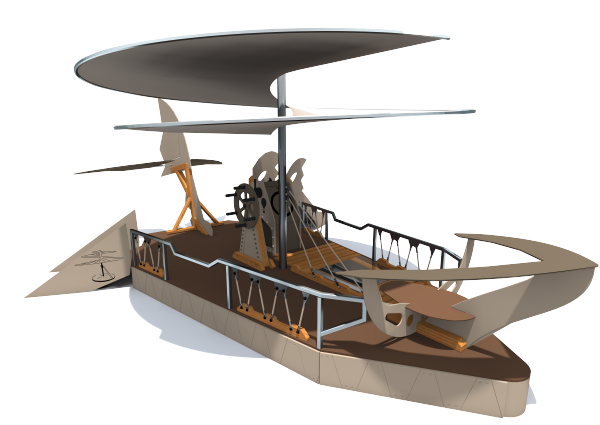 SAFETY
Playgrounds that are located in places where many can use it require certain safety requirements to be met. These are specified in EU standards EN1176 and EN1177 and apply to both the playground equipment itself and the fall ground. It is the property owner or the board of the business that is responsible for the safety of the playground. If an inspection of the playground is needed, we can provide contacts for it.
Since most of the products we offer are type-approved by TÜV to fulfill the requirements of EN1176, any playground inspection will not cause any problems. Of course, the type approval requires the installation to be carried out in accordance with the instructions with the safety distances and supporting requirements that apply, but in case of uncertainty, an inspector can be consulted during the construction phase of the project. A simple guideline is to have a safety distance of at least two meters around the entire play equipment.
The products for playgrounds we supply are manufactured by a supplier who is ISO certified for both quality and environment in accordance with ISO 9001 and ISO 14001. Processes verified by Bureau Veritas.
WARRANTY
SBI Play offers 2year warranty for all equipment's defects, associated with manufacturing defects or material defects. We provide additional warranty associated with manufacturing or material defects form the day of received payment. Our responsibility as the distributor / manufacturer under this warranty is the replacement of the damaged items free of charge at the manufacturer's discretion.
15 YEAR WARRANTY
Sliding surfaces and stainless-steel HDPE plates.
10 YEAR WARRANTY
All steel and metal parts, which are galvanized using heat method, and parts with powder coating, as well as hooks, all pipes, rubber inserts and outdoor gymnastic and sports equipment's sliding bearings.
5 YEAR WARRANTY
All springer swing metal parts and steel components with powder coating. All wood elements (hardwood, glued pine wood and sawn timber boards). All stationary rope and cable components (for example, vertical climbing net).
3 YEAR WARRANTY
Outdoor gymnastic and sports equipment: rubber parts and plastic parts, as well as thread fasteners and metal parts containing moving elements. All outdoor gymnastic and sports equipment's welded parts.
2 YEAR WARRANTY
Moving rope and cable parts (for example, rope bridge). Precondition for warranty to be valid, is to use equipment as intended, correct maintenance, repairs, if required, using original spare parts, as well as prophylactic work by specialized personal, following manufacturers recommendations.
Proof of prophylactic work is given by the client, or person, who uses the playground. Warranty does not apply to operational wear and tear, intentional damages or acts of vandalism, force majeure conditions, unprofessional assembly, assembly which does not meet manufacturer's instructions, and insuffi cient maintenance, disregarding our ordinances.
In case of a justified warranty claim the manufacture has the rights to do the repairs at their discretion. Breach of contract or price reduction requests are eliminated due to the warranty commitment. However, the legitimate rights for defect liabilities are valid.
A playground can be considered completely safe for children if not only the equipment is designed and installed in accordance with EN1176, but also the surface of the playground (depending on the height of fall) is designed in accordance with EN1177.
This standard is based on the injuries a child may suffer from falling from the playground structure and how they can be reduced at the time of the fall. There are various solutions for creating a cover to reduce injuries – sand, mulch, fine pebbles or rubber. Rubber coverings are the most common because they will last longer than other coverings, require less maintenance and they are easier to monitor. Surfaces of other materials are not permanent and dangerous pits forms there regularly.
Rubber tiles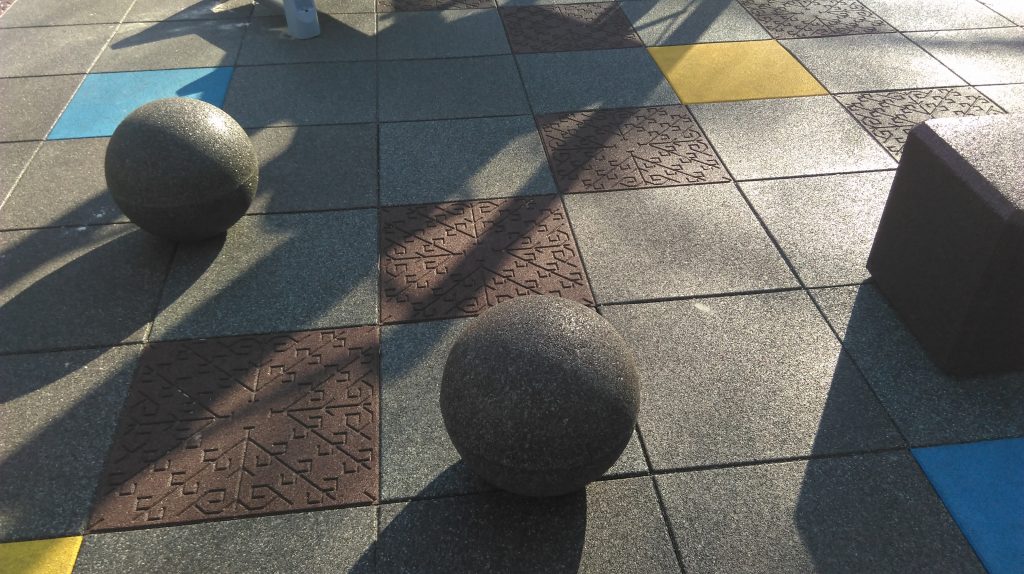 Tiles consist of a layer of SBR* rubber granules and a top layer of EPDM** rubber granules. The most common thickness is 45 mm. The EPDM tile surface is available in various shades, which can be viewed below.
Laying rubber tiles is similar to laying paving. A 200 mm thick compacted crushed stone and sand base is formed, on which tiles are applied. Since the amendments to the construction law, which provides for a 60-month guarantee for the improvement works, we have been pouring a 5 cm layer of concrete over the gravel base instead of sand, which prevents any possibility of the base of the area being washed away.
* SBR – recycled rubber, most often – ground tires.
** EPDM – first made rubber.
All our products have a certificate issued by TUV for compliance of rubber tiles and granules with the standard EN1177.